Pottery Classes & Workshops
Private Online Classes for Out of Town Students
Group Classes for Local Students In The Comox Valley
Workshops – Hands on and Demo only – If you are a guild, just ask me.
Pottery Classes and Workshops
"Cori's Clay Class is my favourite 3 hours of my week. Honestly!"
Reclaim your hands, rediscover your inner artist.
Have you always wanted to take pottery lessons?
Let me share with you my enthusiasm about the clay's possibilities here in my potter's studio. Learn about traditional methods of hand building,  pinching, coiling and various slab techniques. Get caught up in the excitement of the potter's wheel.  I'll guide you through the process of decorating and glazing your work.
You will be making pots that you can keep and gift away to friends and family.
Have you always wanted to make your own handmade pottery coffee mug?
You can purchase your BASIC POTTERY TOOL KIT on the 1st day of class at a special Cori's Clay Class discount.
Not to worry, I always have extra "anyone can use" tools on hand at the studio as well.
Ha! It's dirty work, but someone's gotta do it!
Lots of important info here, so please take your time and read through this page.
Cost
$325.00 – 8 class term

$30.00/bag clay/glazes/firings

$25.00 Basic Pottery Tool kit available first day of class at studio. (if required)
$50.00 non refundable deposit to secure your spot

$20 cancellation fee if cancelled within 3 weeks of the class start date.

Full refund will be provided if the class is cancelled due to enrollment.
You can purchase your BASIC POTTERY TOOL KIT on the 1st day of class at a special Cori's Clay Class discount. Not to worry, I always have extra "everyone can use these" tools on hand at the studio as well.
Deposit
Once you have been confirmed in the class/event/workshop, you can send your $50.00 deposit via Email Money Transfer. Instructions on sending your deposit will be in your Confirmation of Registration email.
Space is limited so as to give you lots of personalized attention.
Term is 8 weeks long
1 class/week.
If there is room in the class, you may start a class mid term. Feel free to ask.
3-5 students per class allow for lots of personal attention
Students sign up for an 8 week term of 2.5 hours classes including cleanup, and attend the same chosen class time for the duration of the term.
Classes will run with a minimum of 3 people.
If you and 3 friends would like to create new date/time for a term of classes, feel free to ask me if I can create a special class for you.
Teaching revolves around you.
You will learn Wheel-Throwing and Hand-Building Pottery Making Techniques.
You will learn to decorate and glaze your work.
Dates are subject to change, depending on enrollment.
ONLINE ZOOM LESSON
 Private One on One Custom Class

ONLINE – Private One on One ZOOM class
Are you struggling with making handles, or centering your clay?
Are you wanting to learn to throw off the hump or make large plates and platters?
Do you just want to be more consistent with your throwing skills?
Is there a form you are having issues with and just want to get to bottom of what it is that is stopping you from making what you want to make?
1 hr per class, tailored to. your specific needs.
We'll determine our time zones and what is the best time to have a class that fits our joint  schedules.
Use Discount code at checkout
"covid"
Currently, I am offering a discount coupon code "covid" for a $20.00 discount off the regular price until the end of June 2020.  I may extend that, but right now,… be sure to use the discount at check out.
Single Class.- 1 hr session – $50
6 Class Bundle – 6/ 1 hr sessions – $250
Intro to Clay
Wheel Throwing For Beginners
This level offers an introduction to the potter's wheel. You will learn how to make a simple round vessel. A cylinder is the foundation shape for almost every other creation made on the potter's wheel and you will learn how to make this form in various sizes.
At the end of the class, you can expect to take home 3-8 finished pieces: this might include mugs, cups, bowls, tea light holders and more.
You will decorate your pots with varying techniques which may include carving, adding colour using coloured slips, sgraffito or scratching through the coloured slip, and simple glazing.
If you are a complete beginners or have limited experience, this level would be appropriate for you.
Beyond The Basics
This class or level requires that you have taken at least one beginner wheel class. To participate at this level, you'll require clarity about how to throw a cylinder or bowl and be prepared to practice what you have learned to date.
This level will also have you refining your skills in wedging clay, centering, pulling walls and trimming, making and attaching handles – both hand-built and pulled handles.
We will work on your abilities to consistently be able to center and control your clay.
You will also be asked to keep a sketch book or have drawing references for you to be able to form the shapes you plan to make.
More surface decoration techniques will be examined at this level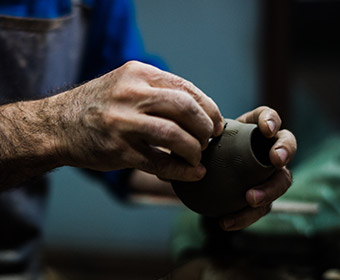 Hand-Building – Beginner Basic
This is an intro to hand-building. You'll be introduced to basic techniques including pinching, coiling, slab rolling, carving, soft and hard scab construction.
With a variety of decorating techniques taught at this level, you'll learn to bring life to your projects. You will be introduced to painting with coloured slips, and scratching through the slip (scraffito) and basic glazing.
You will take on projects that a geared to your experience level. You can work on specific projects offered in class, or you may wish to work on your own projects utilizing methods taught in class. The sample projects shown in each class will vary and may include such items as mugs, bowls, serving platters, wall plaques, plates, pitchers,  candle holders, boxes, vases and small sculptures.
Intermediate & Advanced Classes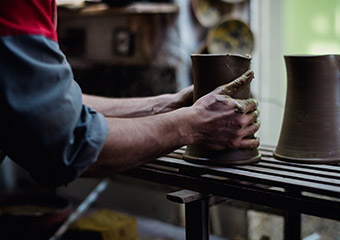 Wheel Throwing & Hand-Building 2
This level is a combination of both worlds. Throwing on a potter's wheel and free form hand-building utilizing several different methods including coiling, pinching, scraping, soft and hard slab construction.
You'll continue to explore what you have already learned in an intro.beginner class, refining your skills and learning new techniques.
You will lcontinue to explore glaze decoration and glazing techniques toward the end of the term. This level would be appropriate for someone who has completed at least 2 sessions of Beginner/Intro classes.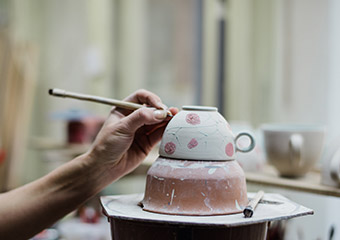 Wheel Throwing & Hand-Building 3
Can you easily and comfortably center and throw cylinders and bowls?.
Have you begun to explore more complex shapes? If so, then consider this level for yourself. You will divide the term in two parts. 4 weeks of  skills developing and using those skills in the forms you wish to make and at least 4 weeks in making and alterring pots.   This could include teapots.  casserole dishes, lidded forms, and multiple component pots.
Understanding and examining the which components are required in your form will be defined and explored. There are several throwing challenges in making a teapot including lids and handles/knobs that both fit physically and visually, spouts that pour and are placed accurately, collaring teapot openings and creating a seat or gallery for the lid to sit in, pulling handles and assembly of all components.
This class will have you creating a teapot form you have chosen and utilizing all you have learned in the previous weeks.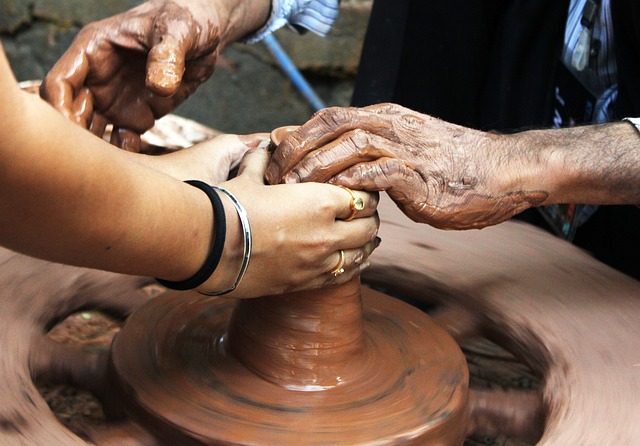 Girls Night Out
Date Night
Want to have some serious fun with 3 or 4 friends.  Do you have a desire to make pottery with your partner, spouse, bff…?
You'll have l ots of fun making your own handmade pottery mug or cheese tray, bowl or garden ornament.  The ideas are endless.
Try the potters wheel and laugh as you get a little messy.
50.00/person – 2 hours.
Check below what kind of class you're interest in
OR … You can
Buy Your On-Line Class NOW
Painting/Slip Decoration & Scrafito
Postponed due to covid 19
There are so many ways to decorate your pots.  Glazing is just one of many techniques.  In this workshop, we will explore decorating your work using black, white and coloured slips.  You will learn about  painting, sliptrailing, scrafito, water etching, paper resist, inlay or mashima, and mono transfers.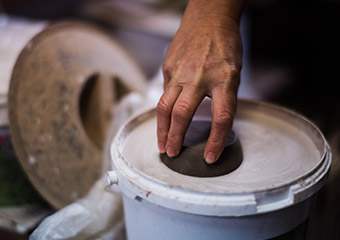 Glaze Making
postponed due to covid 19
Learning about glazes is a lifetimes work.  However, making glazes is not that difficult.  You'll learn the basics of glaze making, and how to make adjustsments to a single glaze, therefore making several different glaszes that will interact well with each other and increase your glazing palette and options.
Get periodic updates on sales and events.
Early-bird access and discount codes
Don't worry, I am not the 'over-emailer' type