Cori's Clay Class - Pottery Lessons
 IN BEAUTIFUL COMOX VALLEY, VANCOUVER ISLAND, BC
MONDAYS & TUESDAYS- 2018
Only a few spaces left
Wrap your head and hands around your imagination!
Come and explore, and above else,
HAVE FUN!
scroll down for details
Reclaim your hands, rediscover your inner artist.
Have you always wanted to take pottery lessons?
Let me share with you my enthusiasm about the clay's possibilities here in my potter's studio.
Learn about traditional methods of hand building,  pinching, coiling and various slab techniques.
Get caught up in the excitement of the potter's wheel.  I'll guide you through the process of decorating and glazing your work.  You will be making pots that you can keep and gift away to friends and family.
Ha! It's dirty work, but someone's gotta do it!
cori's clay class          clay safari          girls night out          online learning
You can purchase your BASIC POTTERY TOOL KIT on the 1st day of class at a special Cori's Clay Class discount
For additional tools you may want to add to your tool kit, be sure to check out


Pottery

Books & Tools  

BEFORE heading to class - there may be some extra tools you'd like to have in hand.
Not to worry, I always have tools on hand at the studio as well. 
If you missed out in this term's class just fill in a registration form and be sure to indicate the next term or state you are on a waiting list. Fill out and submit the registration form and iI'll do my best to get you in the next possible class
Life is meant to be flexible.
A deposit of $50 reserves your spot.
Space is limited so as to give you lots of personalized attention.
Balance due first day of class.
$20 cancellation fee if cancelled within 3 weeks of the class start date.
Once you have been confirmed in the class/event/workshop,
you can send your deposit via Email Money Transfer or
you can head to my SHOP where you will be able to send your deposit to secure your spot.
CONTACT  me to discuss all the possibilities.
Classes will run with a minimum of 3 people.
CORI'S CLAY CLASS
$325.00 + materials/tools
($50.00 non refundable deposit to secure your spot


Basic Pottery Tool kit available first day of class at studio
Additional 

Pottery Tools

can be found

here

with lots to choose from.    
WINTER 2018:                                             
Monday, January, 8,   - February, 26         
Tuesday, February, 6, - March 27 
SPRING 2018:     
Monday, April 16 - June 11,         
Tuesday, April 17 - June 12
Term will run 8 weeks - 1 class/week. 
If there is room in the class, you may start a class mid term.
Feel free to ask.
Mondays
1:30 - 4:00
6:00 - 8:30
Tuesdays 
1:30 - 4:00
6:00 -   8:30
- 4 students max per class
- Teaching revolves around you.  
- You will learn Wheel/Throwing & Hand-building Pottery making techniques.
- Dates are subject to change, depending on enrollment.
- Students sign up for an 8 week term of 2.5 hours classes,
  and attend the same chosen class time for the duration of the term.
Costs:
~ $325.00 - Adult classes / term
~ $30.00/bag of clay which includes glazes and firings
     **(only clay purchased from this class may be used/fired in the studio)
~ $25.00 approx. for basic tools kit if required.
(There are studio tools which you are welcome to use, but it's recommended to have your own basic set.)
ADDITIONAL TOOLS - BE SURE TO CHECK OUT  POTTERY BOOKS AND TOOLS
Additional tools and Chinese glaze/paint/calligraphy brushes may be available for sale in the studio that are not included in your basic tool kit.
Cori's Clay Class provides a fun, relaxed and welcoming place to get your creativity mojo working.
Learn how to throw on a potter's wheel, or hand-build. You'll decorate and glaze your work.
With 4 students maximum per class, there is a lot of personal attention.
Types of classes/levels available:
Wheel for Beginners
Wheel 2
Intermediate Wheel: Teapots, complex and altered forms
Wheel & Hand-building - Beginner
Hand-building - Beginner Basics
Hand-building 2 - Intermediate
Class dates are as outlined above, but we are all human, and I ask you to be flexible, in the event that we have to reschedule a date or postpone a class if needed.

GIRL'S NIGHT OUT



$47.50/person (minimum 4 people)
~ Bachelorette Parties
~ "Get Your Creativity On" Night with your gal pals
~ Office At Play - Parties
~ Girls Just Wanna Have Fun Night

Get together in the pottery studio.  A one night, 2 hour claytastic time.
This is NOT a paint some standard mug thing, but is IS A REAL POTTERY STUDIO.
Laugh with your friends as you throwing clay on the potters wheel and hand build some beautiful items that you can pick up after I have fired them for you.
Here are just a few of the items we can plan to make.
Each Girl's Night is different, and we can tailor an evening just for you and your besties.
Luminaries (candle pots)
Bowls
Mugs
Trays
Serving Plates
Horsedeovers Platters
Garden Ornaments
Christmas Ornaments
Jewellery Pendants and Earrings
Musical Rocks & Pouches
Balloon Bowls
Trivets
Wall Pillow
ON LINE LEARNING
 $49.95 / hour

Do you live in another city, town, or country?  Would you like one on one pottery instruction?
Have you seen my live streaming videos on Periscope and want some one on one instruction?
Are you already making pots, but want to get some guidance on your throwing skills or learn a new skills but can't make it here to Cori's Clay Class or to a workshop?
Skype or Face - Time session are available for just that purpose.
Each session is catered to your specific needs.
Let's connect to see how I can best help you out.
By clicking on the RED button, you'll be taken to a form to fill out - it's just one way that I try to control the spam that can come along with having a website.  Thanks for understanding.
2 / 3 DAY INTENSIVE
CORI'S CLAY CAMP

$198.00 - 247.50/day   Tailored Workshops

($50.00 non refundable deposit to secure your spot)
Do you just want to get down to it?  Do you want to hone your skills?
Here on the west coast of British Columbia, you'll join me in my studio, across from the ocean for a
2 day or 3 day workshop (10 - 4:30) each day.  You will spend concentrated time working through fundamentals and particulars of throwing on the potters wheel and or hand-building.
This is a process based workshop - so you will not be going home with any completed work, but you will be making making making - considering form, technique, altering & trimming.
Day 1,  you will concentrate on making work - throwing/hand building - depending on your desire.
On day 2, 3 we will be trimming work, discussing decorative applications and applying wet slip decoration and slip transfer decoration, mashima or inlay decoration,  and texturing decorating techniques on work made on day 1.
If you would choose to continue to work on throwing only, that is also completely possible.
I am happy to tailor a workshop to your specific needs and wants.
This is your time and we can work on specific areas that you are interested in 'getting down'.
$247.50 / day  - regular price
$198.00  /day  - early bird special price
                        - pre-registered cori's clay class students
1 bag clay included
(additional clay, 30.00/bag)
Lunch included
If you are coming to Vancouver Island for the first time, you may want to schedule an extra day or two just to take in some of the beauty that I get to live with everyday.  Depending on the time of year, you may want to go whale watching, or hiking or take in a summertime music festival.
The Comox Valley is one of the most beautiful  places  I know of.  You'll love it if you are visiting and you already know this to be the truth if you leave here.
What Kind Of Student Are You?
Wheel - Beginner

This level offers an introduction to the potter's wheel. You will learn how to make a simple round vessel. A cylinder is the foundation shape for almost every other creation made on the potter's wheel and you will learn how to make this form in various sizes.
At the end of the class, you can expect to take home 3-8 finished pieces: this might include mugs, bowls, small lidded pots,egg cups, creamer/sugar, tea light holders and more.  You will decorate your pots with varying techniques which may include carving, adding colour using coloured slips, sgraffito or scratching through the coloured slip, and simple glazing.
If you are a complete beginners or have limited experience, this level would be appropriate for you.
Wheel AND Hand-building: Beginner
This level is a combination of both worlds.  Throwing on a potter's wheel and free form hand-building utilizing several different methods; coiling, pinching, scraping, soft and hard slab construction.
You will learn basic decoration and glazing techniques toward the end of the term.
This level would be appropriate for someone who is a complete novice, or one who has taken fewer than 3 pottery classes.
Wheel 2
This class or level requires that you have taken at least one beginner wheel class.
To participate at this level, you'll require clarity about how to throw a cylinder or bowl and be prepared to practice what you have learned to date.  This level will also have you refining your skills in wedging clay, entering, pulling walls and trimming, making and attaching handles - both hand-built and pulled handles.
We will work on your abilities to consistently be able to center and control your clay. You will also be asked to keep a sketch book or have drawing references for you to be able to make the shapes you plan to make.
More surface decoration techniques will be examined at this level
Intermediate Wheel: Teapots, Complex adn Alterred forms
Can you easily and comfortably center and throw cylinders and bowls?. Have you begun to explore more complex shapes? If so, then consider this level for yourself.
You will divide the term in two parts. 4 weeks of making teapots. Understanding and examining the multiple components which are required in this form.  There are several throwing challenges in making a teapot including lids  and handles/knobs that both fit physically and visually, spouts that pour and are placed accurately, collaring teapot openings and creating a seat or gallery for the lid to sit in, pulling handles and assembly of all components.
The remaining session will be creating a teapot form you have chosen and utilizing all you have learned in the previous weeks.
Hand-Building: Beginner Basics
This is an intro to hand-building. You'll be introduced to basic techniques  including pinching, coiling, slab rolling, carving, soft and hard scab construction.  With a variety of decorating techniques taught at this level, you'll learn to bring life to your projects.  You will be introduced to  painting with coloured slips, and scratching through the slip (scraffito) and basic glazing.  You will take on projects that a geared to your experience level. You can work on specific projects offered in class, or you may wish to work on your own projects utilizing methods taught in class.  The sample projects shown in each class will vary and may include such items as mugs, bowls, serving platters, wall plaques, plates, pitchers, teapots, candle holders, boxes, vases and small sculptures. Your imagination is the limit in this class.
This level is appropriate for all levels of experience.
---
You could be in the gallery next term. 
Here is an example of some students and their wonderful pots.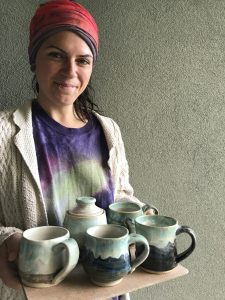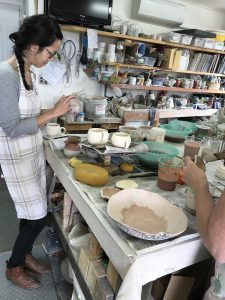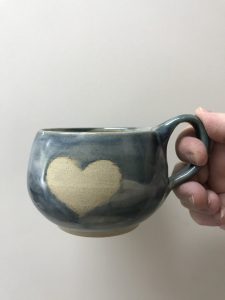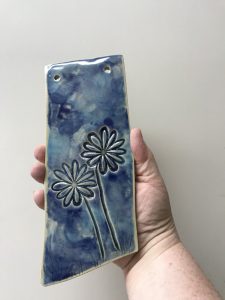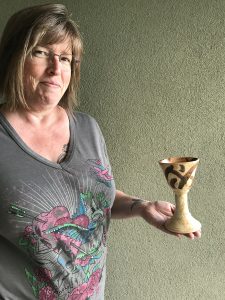 Life is meant to be flexible.
A deposit of $50 reserves your spot.
Space is limited so as to give you lots of personalized attention.
Balance due first day of class.
$20 cancellation fee if cancelled within 3 weeks of the class start date.
Once you have been confirmed in the class/event/workshop,
you can send your deposit via Email Money Transfer or
you can head to my SHOP where you will be able to send your deposit to secure your spot.
Get in touch with me to discuss all the possibilities.
Classes will run with a minimum of 3 people.
 
* * *